This week ended with House Speaker Paul Ryan once again struggling mightily to justify his own weak-willed endorsement of Donald Trump. But at least he isn't making his fellow GOP-ers suffer with him. Yesterday, he encouraged other members of his party, not to vote for their presumptive nominee, but to vote instead with their conscience. Jiminy Cricket would be proud. Watch Ron Fournier's takedown of Ryan's "principled" leadership here this morning ahead of Ryan's Meet the Press appearance this weekend: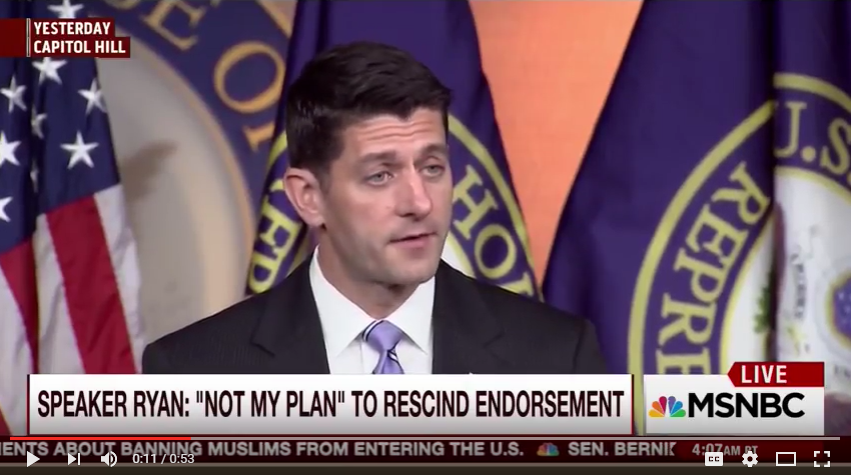 This week, District of Columbia voters made their way to the polls, marking the end of the Democratic primary process. Nearly 28 million people cast their ballots for Clinton and Sanders in our primaries–2.7 million more than the top three Republican candidates combined. The reason Democrats are driving more people to the polls is simple: our candidates have shown that they're committed to fighting for the hopes, dreams and aspirations of hardworking families across the country.
During the primaries, while Republicans resorted to name-calling, mudslinging and infighting, Democrats showed the American people that we're prepared to lead and build on the progress of the last seven years under the Obama Administration. Now, with a successful primary season at its end, we are energized and ready to take on Donald Trump and the Republican Party that he represents.
As we pass the one-year anniversary of Trump's run for president, it is important to recall all of the vile and incendiary comments Trump has made in the past twelve months alone.
The contrast between the Democrats and Trump couldn't be more clear. His increasingly erratic, divisive and dangerous behavior on the campaign trail is proof that he has neither the temperament, nor the judgment to serve as commander in chief. Looking towards our convention in July, we're going to nominate a qualified, capable candidate who will build on the hard-won progress of the last seven years. There's no going back.
Remembering the Victims of Gun Violence
A year ago yesterday, the members of the Mother Emanuel AME Church in Charleston, South Carolina were shot and killed, by an act of racial hatred. Sadly, this anniversary comes as we mourn the victims of another tragic hate crime, this time a terrorist act targeting members of the LGBT and Latino communities in Orlando – the worst mass shooting in our nation's history.
As we remember the lives of the shootings in Charleston and Orlando, we must also recommit ourselves to preventing senseless tragedies like these from happening again. Democrats are committed to making our communities more secure and ending this epidemic by passing sensible gun violence prevention laws.
Important Polls
· According to a poll from CBS News, Seven in ten voters find Trump's comments about Judge Curiel's heritage and conflict of interest offensive, including 55 percent of Republicans.
· According to a poll from CBS News, 51 percent of Americans disapprove of the way Trump is responding to the Orlando attack, while just 25 percent approve.
·  According to a poll from ABC News / Washington Post, Seven in ten Americans see Donald Trump unfavorably.
From the States
Democrats around the country have shown this week that from now until November 8th, we're going to hold Republicans up and down the ballot accountable for their divisive and dangerous policies.
Below is a sampling of the work from our state parties:
Statements
Trump or Troops: Guess Who McCain Sides With - Arizona Democratic Party
NV Dems Unified & Energized for 2016 General Election -  Nevada Democratic Party
NHDP Launches Petition to Tell Kelly Ayotte to Close the Terror Gun Loophole - New Hampshire Democratic Party
Ohio Democratic Party Launches TrumpStopsHere.com Campaign - Ohio Democratic Party
NYT: Toomey 'Often Twists His Face Into A Grimace And Races Away From Reporters Before They Can Ask Him About Donald J. Trump' - Pennsylvania Democratic Party
One Year of Donald Trump Isn't Enough for Ron Johnson - Wisconsin Democratic Party
NEW: Webpage Tracks Gillespie's Silence On Trump's 'Racist' Comments - Virginia Democratic Party
Burr Defends Trump, Puts Pandering Above National Security - North Carolina Democratic Party
Sandy Hook Mother Condemns Marco Rubio's Refusal to Act on Gun Violence - Florida Democratic Party
Articles, Videos, and Op-Eds:
Below is some of the coverage of this week's events:
Ga. Democrats: "Trump is a monster the Republican Party created."
ATLANTA NBC 11 // GREG ROSSINO
Atlanta Donald Trump rally brings out protesters, supporters
ATLANTA ABC 2 // NICOLE EMMETT
At least 3 arrests as protesters block Peachtree Street outside Trump's rally in Atlanta
ATLANTA JOURNAL CONSTITUTION // ASSOCIATED PRESS
With Trump in Texas, state Democrats see a modern-day 'Frankenstein'
DALLAS MORNING NEWS // TOM BENNING
Tags: Arizona, Donald Trump, Florida, Georgia, Gun Violence Prevention, Nevada, New Hampshire, North Carolina, Ohio, Paul Ryan, Pennsylvania, Virginia, wisconsin