Republicans and Democrats agree that Donald Trump's comments about national security at last night's Commander-in-Chief Forum were irresponsible, dangerous, and divisive. This morning on CNN's New Day, Republican Congressman Sean Duffy slammed Trump for his comments that Vladmir Putin is a better leader than the President of the United States. When asked if he agrees with Trump, Congressman Duffy said, "We're a democracy. We elected Barack Obama, and that system and our leaders in that system are far better than the Russian model. . .I think our system and our leadership is better."
And, in response to a question on CNN about Trump's contention that the "generals have been reduced to rubble," Congressman Mike Rogers disagreed and said he wouldn't have used those words.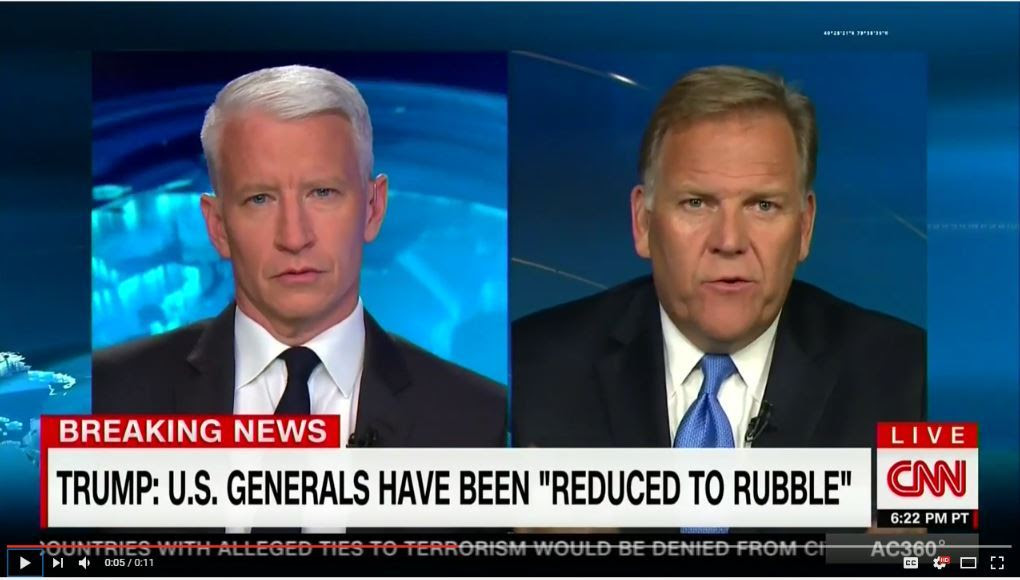 Here's what others are saying about Trump's performance:
Washington Post: Let's start with this: Trump is telling a room of military veterans that the president of Russia, who has a long history of intimidating political opponents and journalists, is a better leader than President Obama. Regardless of whether you like or hate Obama, that's a remarkable statement. As Stuart Stevens, the lead strategist for Mitt Romney's 2012 presidential campaign, put it on Twitter:
Vox: Ignore the fact that Putin's popularity at home has been boosted by his willingness to exile, jail, or kill both political opponents and journalists. To Trump, that simply makes Putin a strong leader, one whose praise the Republican nominee is happy to accept. . .Beyond the rhetoric, Trump has taken positions — endorsing Moscow's support for Bashar al-Assad in Syria, refusing to commit to defending NATO allies against a possible future Russian invasion — that are closely in line with the Russian leader's long-held strategic goals.
New York Daily News: Donald Trump just can't help heaping praise on Russian dictator Vladimir Putin. The pair's international bromance continued Wednesday as Trump gushed over Putin's high approval rating in his home country and suggested the former KGB agent is a better leader than President Obama. "If he says great things about me, I'm gonna say great things about him," Trump said during an NBC-hosted forum on the military. "I think when he calls me brilliant, I'll take the compliment. OK?" The real estate mogul couldn't stop himself, even as moderator Matt Lauer brought up the numerous ways Russia as sought to undermine U.S. interests.
CNBC: Europe is starting to get twitchy about the "bromance" between Republican presidential candidate Donald Trump and Vladimir Putin, especially after U.S. politician heaped more praise on the Russian president Wednesday. . .The comments caused a stir both in the U.S. and Europe. Russia and its leader are still viewed warily in both regions despite an awkward military alliance trying to combat the militant group calling itself Islamic State in Syria and Iraq.
Bloomberg: At an event at which the two candidates made back-to-back appearances to talk about national security and veterans issues, Trump said Putin has "been a leader, far more than our president has been a leader." He also spoke favorably of Putin's approval ratings in Russia and welcomed the Russian leader's remarks about him. . .his remarks on Wednesday night are giving the Democratic nominee an opportunity to raise new questions about Trump's stance and possible political interference from the Kremlin at a time when national security policy has taken center stage in the presidential campaign.
New York Times: Charles M. Blow: The truth shifts beneath Trump like sand. He has no regard for the firmness of fact. For him. Fact is as pliant as the Play-Doh he handed out to flood victims in Louisiana.
Washington Post: There was a very weird thread worth picking out of Donald Trump's comments during NBC's "Commander-in-Chief Forum" on Wednesday night. Over the course of a brief back-and-forth with moderator Matt Lauer, Trump shrugged at a past comment that he knew more about the Islamic State than America's generals. . . Of the many ways in which Trump contradicted himself or betrayed a misunderstanding of how things work, this rapid evolution was hardly the most egregious example.. . .It's not clear that Trump recognizes such nuances, though. He has in the past seen the line between the military and the commander in chief as blurrier than it is in reality.
Tags: Donald Trump, GOP, National Security, Russia